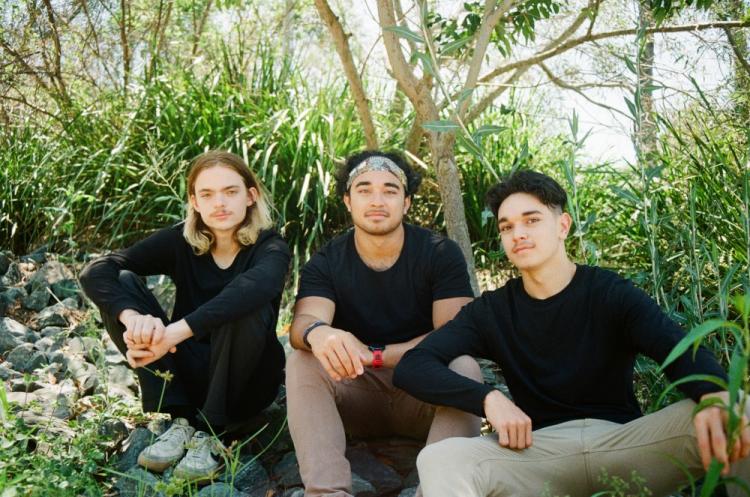 Tjaka
Tjaka is not only the band name for this fresh new group of twenty year olds from Brisbane, Australia, but it is an abbreviation of the skin name given to the 2 brothers of the band; Geoff, and younger brother Jake. The skin name, Tjamakarra, comes from the WA Kimberley kin naming system. Tjakamarra is the next of kin name given to the sons of 'Tjupurru' (Tjupurrula), their father who has been a touring and recording musician for over two decades. Felix Fogarty on guitar rounds out the trio.
Tjaka connect to their Indigenous roots through their music, however they do not class themselves as "traditional" Indigenous artists. Instead, Tjaka are crafting a new, contemporary hybrid sound influenced by hip-hop, reggae, funk and of course sounds from their ancestral Aboriginal culture. Uniquely, Tjaka use the Didjeribone (a slide Didgeridoo) and the Facebass (a seismic microphone placed inside the mouth) as a lead instrument. Electric guitar, fiery vocals and programming to round out their sound.
Tjaka pay respect to those who have paved the way before them, in particular Geoff & Jake's father Tjupurru, and the creator of the Didjeribone and Facebass, Charlie McMahon. These musical innovators laid the foundation and provided inspiration for Tjaka to create their music through their groundbreaking experiments with the Didjeridoo and showcasing it as a lead instrument in a band. Tjaka aim to continue what their predecessors started and take it even further.
Tjaka's first single, FIYA, was produced and recorded by Magoo (Regurgitator, Midnight Oil, Powderfinger) and mastered by Lee Groves (Black Eye Peas, Goldfrapp, Tjupurru). This is one of the first songs the group wrote and signifies the theme of where they intend to go musically in the future. Fire, once started, can be difficult to put out and for the band this is the significance behind choosing this track as their first single.